Condoshawaii.com
HALE KAMAOLE
ISLAND STYLE LIVING
Hale Kamaole is located at 2737 S. Kihei Road, Kihei, HI 96753

Maui - Best Island Destination in the World
These spacious condominiums, set in beautifully landscaped grounds, are an ideal setting for a relaxing sun-soaked vacation. Hale Kamaole is located across the street from Kamaole Beach Park III. It offers large one bedroom and split-level two bedroom units each with a private lanai. All accommodations feature a fully equipped kitchen, cable television, telephone, ceiling fans and air conditioning. Outdoor amenities include a tennis court, two swimming pools, BBQs and on-site laundry facilities. Here, warm aloha awaits families and couples alike.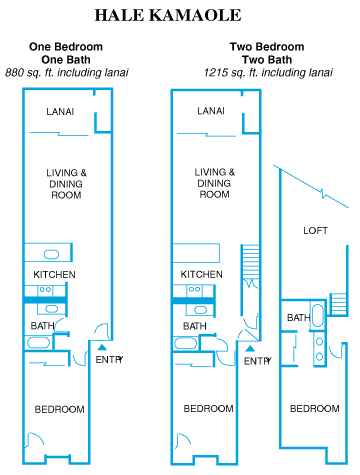 Hale Kamaole
2009 - 2010 Rates


Peak Season
December 21, 2009-
March 31, 2010



Value Season
April 16, 2009 -
December 20, 2009



Value Season



Unit Size

4-6
nights

7-27
nights

4-6
nights

7-27
nights

4-6
nights

7-27
nights

One Bedroom
garden view

195.00

170.00

160.00
135.00

Two Bedroom
garden view

240.00

215.00

185.00
160.00


Rates subject to 12.42% Hawaii Sate & Accommodation Transient Tax and $35 registration fee + one time cleaning fee
2009-1b unit-$80, 2b unit-$100;
2010-1b unit-$85; 2b unit-$105.


Rates subject to change without notice.
Images and text Copyrightę1996-2009condosmaui.com