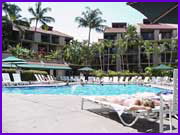 Condoshawaii.com
Kamaole Sands
Maui - Best Island Destination in the World
Conveniently across from Kamaole Beach III in the beautiful town of Kihei, Kamaole Sands features air conditioning, fully equipped kitchens, cable TV, telephone, and private lanais among the many amenities. Four tennis courts and eight BBQ areas can also be found on the property's beautifully manicured grounds. Enjoy a cool swim in the pool or take a leisurely stroll across the street to enchanting Kamaole Beach Park III. Here you'll find a beautiful sandy beach that is excellent for snorkeling, scuba diving, and swimming, sunset views and whale watching. Families with kids will want to visit the large park with a playground adjacent to the beach. Shops and restaurants are also just minutes away from your doorstep.
Reservations will be confirmed in 48 hours.

Kamaole Sands
2009 - 2010 Rates


Peak Season
December 21, 2009-
March 31, 2010



Value Season
April 16, 2009 -
December 20, 2009



Value Season



Unit Size

4-6
nights

7-27
nights

4-6
nights

7-27
nights

4-6
nights

7-27
nights

One bedroom-
Two bath


215.00

190.00

177.00
152.00

Two bedroom-
Two bath


250.00

225.00

198.00
173.00


Rates subject to 12.42% Hawaii Sate & Accommodation Transient Tax and $35 registration fee + one time cleaning fee:
2009-1b $85, 2b $130,
2010-1b $90,, 2b $130.
Rates subject to change without notice.
Images and text Copyrightę1996-2009condoshawaii.com